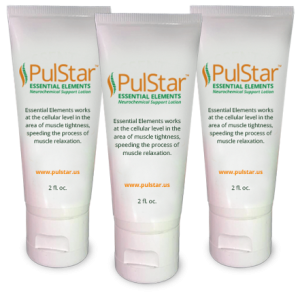 Essential Elements is a cosmetic lotion developed as a soothing application to help support manual therapy, of all kinds, between visits.
Ingredients include Glycerl Stearate, Ceteareth-20, Sesamun Indicum (Sesame) Seed Oil, Calcium Chloride, Potassium Chloride, Cetyl Esters, Cetearl Alcohol, Sodium Ascorbyl Phosphate, Dimethyl Sulfone, Isopropyl Palmitate, Magnesium Chloride, Phenoxyethanol and Caprylyl Glycol.
Essential Elements' formula is based primarily on a theory developed by PulStar Founder Dr. Joseph Evans, which determined that pain originates on the cellular level with a failure of the calcium pump.